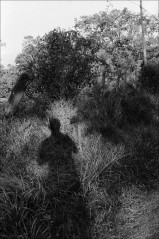 Xavier Roy was born in Bize in the south west of France, the son of an artist mother and a father in advertising.
He began his career at "Vogue",  a music publishing company. In 1968 he joined Midem Organisation (today Reed Midem), where he became General Manager and then Chief Executive between 1989 and 2003.
During his career he was made an Officer of the Ordre National du Mérite, a Knight of the Legion d'Honneur,and Commandeur des Arts et Lettres.
During these years,  he traveled widely around the world : to India, Egypt, Indonesia, Japan, The United States, Africa and South America, along the way developing a great passion for photography. His first camera was a Nikkormat bought in Singapore in 1977. He also discovered the great masters of photography, such as Kertesz, Cartier Bresson,Robert Frank,and Man Ray…
In 1985 he met Jean François Leroy editor of Photo Magazine who published his first photographs in a feature called « Photo aux 100 Visas »; it was this publication that inspired Xavier to carry through his passion.
In December 2003 he quit his professional career at Reed Midem to devote his life to photography.